News
Madonna and Rocco 'settle their differences'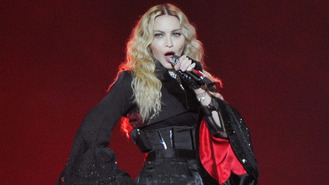 Madonna and her son Rocco Ritchie appear to have finally settled their differences thanks to the guidance of her Kabbalah teacher.
The mother and son were reunited in London earlier this month (April16) after being urged by a New York judge to end their four month long custody feud, with Madonna's ex and Rocco's dad Guy Ritchie. But it allegedly took the help of one of her trusted advisers to help them finally come to an agreement.
"Madonna and Guy knew they had to put their differences aside for Rocco's sake, and Guy agreed to allow Madonna's Kabbalah teacher, Yael Green, to act as a mediator to ensure they could reach an amicable conclusion," a source explained to Britain's Heat magazine.
The sticking point was Rocco's insistence he wanted to stay in London with his film director father, while the equally strong-willed superstar wanted him to move back home to New York.
Ultimately the insider shared that the singer conceded "forcing him would only make the situation worse."
Madonna it seems has made a huge U-turn in agreeing to let her 15-year-old son stay in London during a highly charged meeting during which both of them reportedly became tearful.
"Rocco is happy in London and told Madonna he wants to stay, so they agreed he would spend holidays in New York with her and his siblings and Madonna could join them in London for family outings and dinners whenever she could," added the insider.
Ex-husband Guy was similarly concessionary, and has reportedly agreed to "do whatever it takes" for the former couple to "build a friendship and follow the rules set out by their mediator, which include working out a set schedule and doing more things as one, big, extended family."
However, it seems Guy will have his work cut out for him, after his teenage son was pictured smoking and drinking at a skate park in London U.K. The legal drinking age in the U.K is 18.
Meanwhile, his rock star mum who supposedly fears his father is not being strict enough has agreed to spend more time in the U.K., in the hope the family's tug of war can finally come to an end.
Source: www.msn.com
Added automatically
664 views