News
David Hasselhoff: 'I sang with Pavarotti!'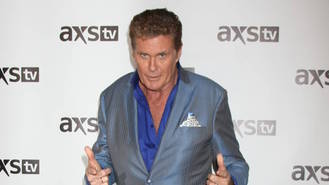 David Hasselhoff once belted out a tune with late opera legend Luciano Pavarotti.
The former Baywatch actor has never been shy about sharing his achievements, and he didn't hold back when American publication Us Weekly asked him to take part in its 25 Things You Don't Know About Me segment.
While many will remember David as lifeguard Mitch Buchannon on the hit TV series, he's also had a successful music career too, with fans in Germany snapping up his records.
"I've sung with Sammy Davis Jr. and Lou Rawls," he smiled. "I also once sang with Luciano Pavarotti on an airplane!
"I've garnered more than 40 gold and platinum records."
He was also keen to remind readers he once sang to 1 million people in Berlin on New Year's Eve in 2014 and he drew a crowd of 100,000 people at the Nova Rock Festival in Austria last year (15).
David, 63, found fame as the lead in cult '80s TV show Knight Rider. The series centred around his character Michael and the talking car KITT, voiced by Boy Meets World actor William Daniels.
"I was privileged to hang with Muhammad Ali. His first words were, 'Hey, Knight Rider, you're pretty, but not as pretty as me!'" he recalled.
"I once had dinner with Michael Jackson. He talked to me about Knight Rider and how he owned a KITT car.
"I've sold more records than Michael — in Switzerland."
Other achievements include having a talk show in Finland and Sweden, and going jogging with former U.S. president Bill Clinton.
David will be appearing in the forthcoming Baywatch movie; however, this time it will be actor Dwayne Johnson who will be donning the famous red shorts to play Mitch. David will also be in Sharknado 4, and will no doubt be back in the U.K. during the festive period to appear in pantomime.
"I broke the attendance record at a pantomime production of Peter Pan in the U.K. I played Captain Hoff the Hook," he noted.
Source: www.msn.com
Added automatically
896 views