News
Anastacia: 'Cancer threat doesn't hold me back'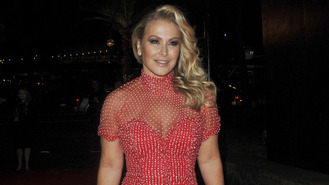 Anastacia doesn't live in fear of cancer.
The American singer has twice battled breast cancer, which led to a double mastectomy in 2013. It means that the disease will never return to that part of her body, but the procedure doesn't stop from it developing in another area of her body.
"It means I can never get breast cancer again, but it doesn't mean it couldn't happen somewhere else. But I don't live in fear. I just try to live a healthy life and to enjoy each moment," she smiled to Britain's Hello! magazine.
Since bursting onto the music scene in 2000 with hit album Not That Kind, she's seen her songs chart all over the world. Her greatest hits album released last year (15) peaked at number 10 in the U.K. charts, and the 47-year-old is grateful that work is showing no sign of drying up.
"I feel extremely blessed with my career. I look at the positives rather than the things I don't have," she explained.
One person she takes inspiration from is Britain's Duchess of Cambridge, and she's even hoping to meet Catherine when she performs in the U.K. at the Hampton Court Palace Festival in June (16).
"Kate seems so lovely and I love the royal family. Their positive energy is so inspiring," she praised.
On the subject of her love life, Anastacia is still single but admits she is currently dating. The singer tends to keep her relationships out of the press, and other than marrying her bodyguard Wayne Newton in 2007 before divorcing three years later, she's managed to keep her private life largely to herself.
"I'm not ready to shout out anyone's name just yet, but I enjoy the process of getting to know somebody. It's fascinating," she teased.
Source: www.msn.com
Added by AutoAdmin
362 views