News
Eminem is re-releasing The Marshall Mathers LP on cassette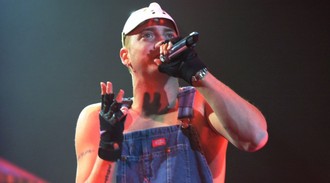 Eminem is re-releasing his momentous third album, The Marshall Mathers LP, on cassette.
Described at the time as "unsettling" but also "captivating", Eminem tackled both personal and societal issues on the record, which was the fastest selling solo album of all time – despite the heaps of controversy it came with – until Adele's 25 overtook it recently.
The radio single was Real Slim Shady but the album also featured classic Em tracks like Stan, Remember Me and Amityville among others. Some consider it the jewel in his crown, and now it's on sale again on cassette just like the Slim Shady LP was earlier this year.
The LP will also come with some as yet unidentified collectables, but a hint might be that the Slim Shady LP re-release came with an exclusive T-shirt.
When The Marshall Mathers LP was released in 2000 Eminem was accused of homophobia and misogyny, claims that have followed him for most of his career, with then US Senate chairman Lynne Cheney calling him "a rap singer who advocates murder and rape". Speaking directly about lyrics on Kill You, she said: "He talks about murdering and raping his mother. He talks about choking women slowly so he can hear their screams for a long time. He talks about using OJ's machete on women, and this is a man who is honoured by the recording industry."
In an effort to combat the claims the Detroit rapper performed Stan with Elton John at the 2001 Grammy Awards, a year after the LP won the Grammy for best rap album – the second of six Grammys for best album in his career to date.
Source: www.msn.com
Added by AutoAdmin
392 views