News
Photographer files police report over Chris Brown yacht party encounter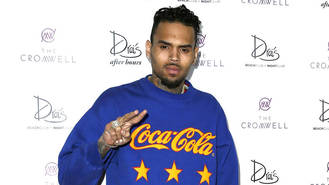 Chris Brown has been accused of ordering his security guard to attack a photographer at a yacht party in Florida.
Mychal Watts claims he was taking pictures of the R&B star as he posed with former American footballer Warren Sapp and fellow singer Tank at a private bash in Fort Lauderdale earlier this month (May16), when Brown is said to have lost his temper and began yelling at the snapper.
"You're done!", Brown reportedly shouted, before his bodyguard stepped in and allegedly shoved Watts into a wall.
The photographer promptly left the event to avoid further trouble and reported the incident to police.
According to TMZ.com, Watts' $1,200 (£830) camera lens was cracked during the dispute, but Brown insists his security official never got physical with anyone at the party, declaring, "It's a lie, lie, lie, lie."
However, the Kiss Kiss star took to Instagram.com on Saturday (21May16) to share a photo of himself snarling and pointing at the camera in a shot taken at the party, where he stood next to both Tank and Sapp. He did not caption the photo.
It's the latest controversy to involve the 27-year-old, days after he and his entourage were allegedly kicked off a private jet in Miami after ignoring the pilot's warning about marijuana use onboard.
The incident apparently took place on 16 May (16), when police were called and ordered the singer and his crew to leave the aircraft. No arrests were made.
Brown subsequently denied the allegations, suggesting the pilot made up the whole story after reportedly trying and failing to obtain illegal substances from his passengers.
The singer has also recently clashed with locals in his neighbourhood of Tarzana, Los Angeles, after he allegedly caused havoc by speeding around their lawns on an all-terrain vehicle (ATV) on 11 May (16).
Source: www.msn.com
Added by AutoAdmin
402 views