News
Corinne Bailey Rae 'destroyed' by Paul Weller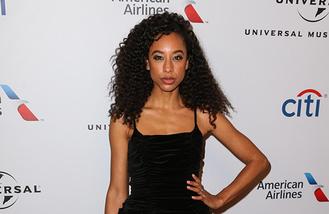 Corinne Bailey Rae was "destroyed" by Paul Weller in the recording studio.
The 'Put Your Records On' hitmaker wanted to work with the former Jam rocker on her LP 'The Heart Speaks in Whispers' and though their sessions never came to fruition, she always considers his advice when writing new songs now.
She said: "Paul Weller kicked my ass, he just destoryed me. He offered great criticism, but with love.
"His advice stayed with me and I hear his voice when I'm writing - like 'Trim the fat. Be more direct.' "
And she also learned to be more adventurous from Wu-Tang Clan's The RZA.
She said "He was like a mad scientist. He taught me to be open and to not freak out. He'd start a track and I'd be, 'What is that?!' Then, after six hours of sculpting, it would sound amazing."
Corinne inititally planned to work with professional songwriters on the record on the suggestion of her record label, but found the experience "horrible".
She recalled: "I'd meet them and they'd play me the 10 most popular tunes on YouTube that week, then pull up 'Put Your Records On' and then programme a drum beat and ask me what my vocal range was.
"It was horrible, like writing for an advert."
However, the sessions did teach the 37-year-old star how much she values being authentic.
She added to MOJO magazine: "I learned something about myself, I don't want to make bad attempts at commercial pop music, I want to do something I believe in."
Source: www.msn.com
Added by AutoAdmin
401 views