News
Adele urges fans not to film gigs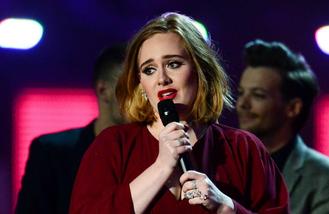 Adele has urged fans not to film her concerts.
The frustrated 'Hello' hitmaker asked a member of her audience in Verona, Italy, on Sunday (29.05.16) to put down her recording device and enjoy her show "in real life" because many other people were not lucky enough to have a ticket to see her perform.
In footage shared on social media, she said: "Yeah, I want to tell that lady as well, can you stop filming me with a video camera because I'm really here in real life.
"You can enjoy it in real life, rather than through your camera.
"Can you take your tripod down? This isn't a DVD, this is a real show. I'd really like you to enjoy my show because there's lots of people outside that couldn't come in."
A number of fans began to cheer after Adele made her request.
Last week, the 27-year-old singer had to stop her show in Lisbon mid-performance when she forgot her lyrics.
The Grammy Award-winning star was in the midst of performing her track 'Million Years Ago' in the Portuguese capital when she mistakenly started singing the chorus lyrics rather than the first verse, which prompted her to stop and apologise to the crowd.
The London-born singer said: "S**t, wrong words. S**t, s**t, s**t. I started singing the verse instead of the chorus! Sorry!"
Despite being one of the world's biggest pop stars, Adele has a history of forgetting the lyrics to her own chart-topping tunes.
In 2011, for instance, she stopped during a performance of 'Chasing Pavements' and acknowledged to her fans in Boston that she couldn't remember the next line of the song.
She said: "I forgot the words! Oh my god, I've never forgotten the words to that song!"
Source: www.msn.com
Added automatically
760 views