News
Demi Lovato says goodbye to beloved great-grandmother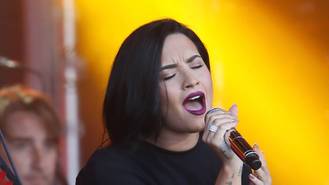 Demi Lovato said a tearful last goodbye to her beloved great-grandmother, after her death on Sunday (29May16).
The Skyscraper singer took to Twitter on Sunday (29May16) to share the sad news with her fans that her 93-year-old "Mimaw" had passed away.
"Life is so short," Demi began. "Cherish every moment you have with your family and friends... I hate saying goodbye But at least I get to say it. RIP my beautiful angel.. Forever will never be the same without you.
The 23-year-old also shared a collage of black and white photos of her and her Mimaw through the years, as well as a touching picture of lying next to her great-grandmother in a bed, while the star gently laid her head on Mimaw's shoulder.
She shared the photo on Instagram and added a lengthier tribute, writing, "This morning I lost my world and the world's most special woman. I miss her more than words can even describe. There is an emptiness in my heart that only her spirit can fill and I pray that I will feel her by my side every single day until we meet again. I attribute my strength to her..
"She held on when she lost the love of her life.. The one she was married to for 53 years. She smiled even though she lost a son just this year. She told everyone she loved them every single chance she got and she joked even when her strokes left her unable to speak properly. The smile that she had not only could light up a whole room but it most definitely lit up the entire nursing home."
Demi continued, "She was my great-grandmother but we were so close that I never knew it was possible that anyone could have the bond that we shared even 70 years a part. The pain I feel is almost unbearable but because of her strength I will power through it. The love and support I have received has been empowering and so special to me.. I love all of you so much and I am forever grateful for the prayers, texts and fan art my Lovatics (fans) have made me. Thank you.
"Mimaw, I hope you are with Papa now," she concluded. "I hate that I can't hear your voice but I love that you are no longer in pain. I love you so much and I miss you more than anyone could ever imagine. I'll miss your smile, your wittiness, painting your nails and your kisses. I really do love you more. Rest in peace and most importantly rest in the Lord. #RIPMimaw."
The photo is the same one Demi posted back in October (15), when Mimaw's husband, whom the singer called "Papa", passed away at the age of 88. At the time, Demi wrote a heartfelt message along with the picture on Instagram.
Demi has endured a string of tragic losses over the past year - in addition to her Papa passing away in October, her uncle, friend Chris Carney, and three dogs have all died in the past 12 months.
Source: www.msn.com
Added automatically
779 views