News
Pink hits back at Memorial Day tweet critic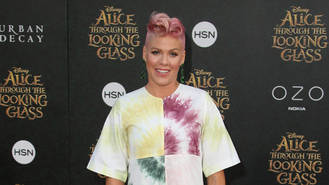 Pink has taken aim at a Twitter troll who criticised the singer's Memorial Day (30May16) tweet.
The Raise Your Glass star joined a host of celebrities who took to Twitter on America's Memorial Day to honour U.S. troops, but a follower took issue with her sentiment because she thought Pink was only saluting military veterans, rather than those who died in service. The fallen are commemorated on the U.S. holiday.
"Thankyou to all those who serve, have served," Pink tweeted. "We're the land of the free because of the brave+we're grateful to you as well as your families."
One follower wasn't impressed with her message, and wrote, "@Pink it's Memorial Day. Not Veterans Day. It's a pet peeve of military peeps (people). Remember the fallen." Veterans Day is held annually in November to honour those who have served in the military.
However, Pink wasn't going to take the criticism lying down and hit back at the tweeter, insisting she was including all service men, alive or dead, in her post.
"I'll honor all of those who serve and HAVE SERVED," she replied after retweeting the troll's tweet. "My entire family. Like I said. My pet peeve is people like you... My 70yr old Veteran dad marched this morning in a parade like he does every year, to honor those who've fallen. Take your bs (bulls**t) somewhere else."
A fan then asked Pink, real name Alecia Moore, why she feels the need to respond to haters more than her fans, and the singer explained, "It's a character flaw."
Pink has always been one to call out online trolls, and last year (15) she took to Twitter to tell those shaming her about her weight gain, "I am perfectly fine, perfectly happy, and my healthy, voluptuous and crazy strong body is having some much deserved time off."
Source: www.msn.com
Added automatically
748 views