News
Louisa Johnson worried about album reaction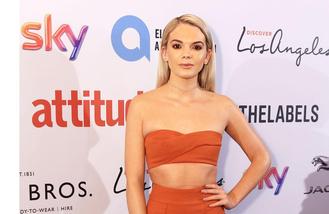 Louisa Johnson is "scared" of people's reactions to her debut album.
The 18-year-old singer - who shot to fame after winning 'The X Factor' in 2015 - has been working hard on her record and treated writing songs for it like a "diary", so is worried about how those who know her will respond to the personal subject matters.
Discussing her upcoming record, which will be released in 2017, she teased: "It's really hard not to give anything away I feel like the album is definitely going to be very versatile, it's kind of like a diary entry. I haven't really held back on what I said either, it's quite... I'm scared."
And the 'So Good' hitmaker admitted she had to check some of the lyrics with her loved ones to ensure they were OK about her making certain situations public.
She admitted: "Yeah I have had to check a few things, it's a bit risky.
"Nothing about anyone in particular, just about situations I've been in, it's exciting."
Louisa doesn't see her record label boss Simon Cowell very often, but she always feels supported by him and is grateful he is very hands-on with her career.
She exclusively told BANG Showbiz: "[I get] 100% support definitely from Simon, but I don't see him much.
"When I see him, he's very involved in the projects - nothing goes underway unless it has been signed off by me or him so we've got the overall say which is really cool."
Louisa recently revealed she wasn't happy with 'Forever Young', the Bob Dylan cover that was her debut single and admitted she was surprised it even made it to number nine in the UK charts.
She said: "I didn't really gel with it that much, everyone knows it wasn't the best song. I didn't really like it, but it was just one of those things.
It got to a higher spot than I thought it was going to get."
Source: www.msn.com
Added automatically
632 views