News
Harry Judd only skipped one song on Busted's new album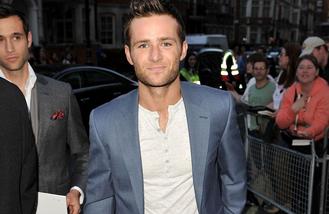 Harry Judd told Busted's Matt Willis there is only one song on their new album 'Night Driver' which he skipped.
The McFly drummer was all "fired up" after hearing their comeback LP - their first in three years since 2003's 'A Present for Everyone' - and is thrilled the trio are back with together as a three with Charlie Simpson, who quit the rock/pop group in 2005 and previously vowed never to return.
And, although he hasn't named the track, he admits he feels "rude" for pointing it out.
Asked if he's heard the new record, he exclusively told BANG Showbiz: "I have checked it out actually I was on What's App with Matt [Willis] and James [Bourne] just the other day just to take a moment to congratulate them and tell them I was loving the album.
"It's really cool I was saying to Matt there was only one song that I skip which is pretty good going.
"He was like, 'Which song?' And then I was like, 'I can't say, I already regret saying it because it's quite rude!'
"I'm genuinely loving it and it's good to have them back as a three. The Busted album has got me fired up."
However, one of the tracks that will be featured on the new record will be familiar to fans.
Meanwhile, the 30-year-old sticksman recently revealed 'Getting It Out', from Busted/McFly supergroup McBusted's 2014 self-titled LP, will be on McFly's new album.
He previously said: "One of the songs from album six ended up on the McBusted album, which was 'Getting It Out'. We recorded it in Texas but then recorded it for the McBusted album."
And Harry recently admitted that McFly fans "hated" McBusted - which was also comprised of Busted's Matt and James and himself, Tom, Dougie Poynter and Danny Jones.
The hunky rocker says they are keen to get new music out because their fans were "frustrated" with the 'Air Guitar' band.
He said: "It's been a while since we have just been McFly and a lot of our fans are frustrated.
"Although McBusted has been a success, a lot of McFly fans were like, 'I hate McBusted!'"
Source: www.msn.com
Added automatically
794 views