News
Snoop Dogg's collaboration with Charlie Wilson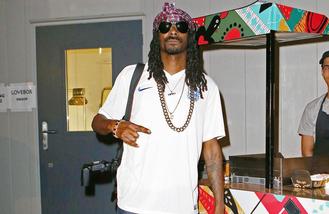 Snoop Dogg will feature on Charlie Wilson's next album.
The 63-year-old singer, songwriter and producer is preparing for the release of 'In It To Win It' in February 2017 and he has collaborated with a number of stars including Snoop Dogg, Lalah Hathaway and T.I. on the record.
Charlie and T.I. will also release a new single, 'I'm Blessed'.
He said: "'I'm Blessed' says exactly where I am in my life, blessed to still be making music that people want to hear. 2016 has been a tough year for so many people around the world and I am proud to release a song that reminds us that we can all find some blessings in our lives."
Meanwhile, Snoop recently slammed Kanye West for ranting on stage.
The 45-year-old rapper took to social media to slam the 39-year-old musician - who has three-year-old daughter North and 12-month-old son Saint with his wife Kim Kardashian West - for constantly venting about fellow artists.
Speaking in a clip, which sees Snoop give a running commentary whilst listening to Kanye's speech in the background, the 'Drop It Like It's Hot' hitmaker said: "This n****r crazy. Have you heard this n****r diss a n****r onstage? This n****r crazier than the s**t I got on my head.
"That n****r crazy. I can't believe he's still talking. He picked the wrong night to vent like that, them Sacramento n****rs ain't feeling that s**t.
"He was talking that weird a*s s**t. That's just my thoughts.
"I smoke weed. Weed don't make you do that. What the f**k is he on?"
Source: www.msn.com
Added automatically
667 views