News
Dua Lipa 'scared' about putting herself out there on debut LP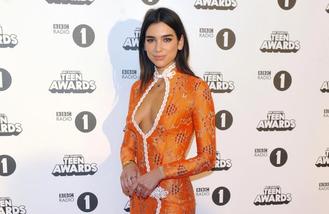 Dua Lipa is "scared" of putting herself out there on her debut album because she wants to come across as "authentic".
The 21-year-old pop beauty is gearing up to release her first full-length record, which arrives in the new year, and has opened up about feeling nervous about how she is represented on her first ever LP.
In a documentary called 'See in Blue' produced by The FADER and YouTube Music, she admitted: "I'm scared because at the end of the day this represents me and no one else. I know it's a weird concept, but it's like I just want it to be 100 percent authentic and 100 percent real."
Since releasing the smash-hit 'Hotter Than Hell', Dua has performed at Glastonbury Festival and appeared on US TV show 'The Tonight Show Starring Jimmy Fallon' and she credits her success to putting in a lot of hard work.
In the clip, she said: "This whole year has been jam-packed full with things that I've always dreamed of doing.
"Performing at Glastonbury to doing 'The Tonight Show with Jimmy Fallon' to now putting out my record.
"You've got to work really, really hard and I feel like it's not just for music, it's for everything you do in life."
Meanwhile, the 'Room For 2' singer recently opened up about an obstacle she has overcome in the past, and that was being the "new girl" in school.
However, she soon learnt how to deal with it and it's made her more "confident" at finding new friends now.
Asked if she had any anxieties growing up, she exclusively told BANG Showbiz: "Because I travelled from London to Kosovo and then back to London, I was the new girl in school so It was always quite tough trying to make friends and when I came back to London I went to a girls school and that is always tough.
"I guess you just learn to make friends in a different way. It makes me more confident, but it's terrifying.
"Especially being so young and trying to make friends, it's one of the most daunting things when you go to school."
Dua releases her debut self-titled album, which features the hit singles 'Hotter Than Hell' and 'Blow Your Mind (Mwah)', through Warner Records on February 10.
Watch 'See in Blue' on TheFADER.com here:
http://www.thefader.com/2016/12/20/see-in-blue-dua-lipa-documentary
Source: www.msn.com
Added automatically
649 views