News
Metallica's Lars Ulrich is a huge fan of Rihanna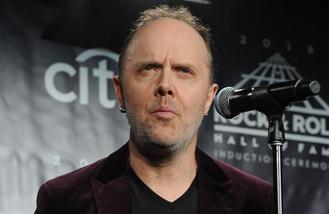 Metallica's Lars Ulrich is a huge fan of "next level" Rihanna.
The 'Nothing Else Matters' hitmaker admits that he is not familiar with many pop musicians, but through his children - Bryce, nine, Layne, 15, and Myles, 18, who he has from previous relationships - and getting to perform with the 'Work' hitmaker he realised how amazing she really is.
In an interview with The Sun newspaper, the 52-year-old rocker said: "My kids play me stuff like Kendrick Lamar or Kamasi Washington, but I didn't know who any of these people were before - I'm just not exposed to much pop music in my life.
"I didn't know much about Rihanna either, but we did a show with her in New York and it was like, 'Holy s***, she's really good! She's next level."
The heavy metal group - also comprised of James Hetfield, Kirk Hammett and Robert Trujillo - showed their appreciation for another pop legend on their new album 'Hardwired... To Self Destruct'.
Frontman James Hatfield, 53, was inspired to write a song about Amy Winehouse after being affected by the "misconnection with reality" that was apparent in the documentary 'Amy'.
He was both fascinated and horrified by what he witnessed in Asif Kapadia's 2015 film, as he watched the drug-addicted musician turn from a "joyous person" to a lost soul who was "trying to escape" her life.
Hetfield decided to detail his feelings about the 'Rehab' singer in the track 'Moth Into The Flame' from their 10th studio album.
He said: "Just watching that movie was extremely saddening - how her life went from such a lively joyous person, to someone who was just trying to escape the reality of where she was.
"It really hit me in the one part of the movie where she was lost in her mind, it seemed, and she was just leaving her flat in England. The press were just hanging out in front of her place all the time, snapping these pictures of her, saying, 'Hey, Amy, how's it going?' Talking to her like they know her. They just don't notice - they wouldn't say, 'You look skinny, you look unhealthy.' There was a total misconnection there with reality."
Winehouse tragically died in July 2011 at the age of 27 from alcohol poisoning after a heavy drinking binge.
'Hardwired... To Self-Destruct' is Metallica's 10th studio album and their first since 2008's 'Death Magnetic' and Hetfield previously revealed a lot of the tracks on the LP were influenced in some way by Winehouse.
Source: www.msn.com
Added automatically
839 views