News
Robin Thicke taking some 'quiet time' to mourn father's death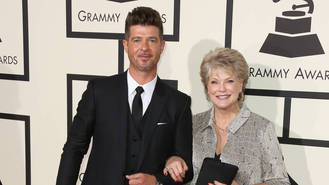 Robin Thicke's mother Gloria Loring is giving the singer some "quiet time" to grieve the loss of his actor father Alan Thicke.
The Growing Pains TV icon suffered a heart attack and died in Los Angeles on Tuesday (13Dec16), aged 69.
Robin was among the first celebrities to honour his father, telling the Los Angeles Times his dad was "the greatest man I ever met", adding he was "always a gentleman".
"I saw him a few days ago and told him how much I loved and respected him," Robin said.
Now singer Gloria, Alan's first ex-wife, has shared how the Blurred Lines hitmaker and the former couple's other son, Brennan, are coping with their father's sudden death.
"(They're dealing with it) in their own way," she explained to U.S. news show Entertainment Tonight.
"I told them I was ready to come in and be with them if they wanted me there. They said, 'Give us a day; we just need some quiet time.' I said, 'I'm there if you need me.' Everyone has their own way of grieving."
Gloria revealed she learned about Alan's heart attack in a text message from 41-year-old Brennan after the acting veteran had been hospitalised, and he died soon afterwards.
"Brennan sent me a text because he was on the way to the hospital," she recalled. "He said, 'Dad's had a heart attack and it's a big deal.' I called and spoke to him briefly and said, 'Tell me what happened,' and he said they'd taken him to the hospital, they were very close, they were taking him into surgery.' And then a very short time later, Brennan texted me and said, 'He's gone.'"
Gloria, who initially issued a statement expressing her "shock" at Alan's death, admitted she and her family are still trying to come to terms with the sad news.
"They (her sons) loved their pops," she said. "It's just so sad, as it is for any family who loses a parent. It's just so shocking. He was always there when they needed him. He was very devoted to his family, and he was always so much fun to have in the room anywhere he was - his sense of humour went before him."
The exes remained close following their divorce in 1984, and Gloria, who turned 70 just three days before Alan's passing, cannot comprehend life without the head of their family.
She added, "I loved him with every fibre of my being, for about 14 of the 16 years I was with him. And then things changed and it was time for us to grow in different ways. I'm so grateful that I had the time I had with him."
Alan had a third child, 19-year-old Carter, with his second ex-wife Gina Marie Tolleson. The father and son had been playing hockey when the actor collapsed. He is also survived by his widow Tanya Callau, who he wed in 2005.
Source: www.msn.com
Added automatically
629 views