News
FKA Twigs releases online archive of her work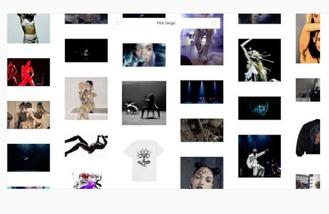 FKA Twigs has launched a new website that features an archive of all of her work to date.
The 28-year-old star worked with British artist Matthew Stone and International Magic & Matthew Stone for the site fkatwi.gs, which features her earlier tracks, merchandise and music videos.
She wrote on Instagram: "Excited to share my new site with you and to have one place where all my work is archived, to discover unseen work and join the dots between the projects I've made. This is a creative project in itself so please explore."
The new site is separated into four distinctive categories - Watch, Listen, Look, and Shop - while the archive section allows UK-based users to stream 'Short film Soundtrack 7' for the first time.
The 35-minute video was shot at the Old Granada Studios during her week-long residency at Manchester International Festival in July.
The project features a recital of Thomas Wyatt's poem 'I Find No Peace' and has been described by the singer as "flesh, sweat, feeling, muscle; no air brushing, no frills".
The launch of the website comes shortly after Twigs released the trailer for an upcoming documentary about her Baltimore dance workshops.
Over the summer, the musician - whose real name is Tahliah Barnett - gave free classes taught in conjunction with her choreographers, and the lessons were captured in an documentary about the Baltimore Dance Project.
In a black and white teaser for the documentary, Twigs said: "When things are difficult, art always flourishes."
Source: www.msn.com
Added automatically
702 views