News
Dan Auerbach to release second studio LP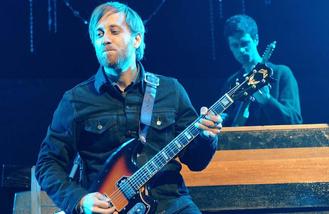 The Black Keys' Dan Auerbach is releasing a new solo album in 2017.
The 37-year-old guitarist-and-producer has teamed up with an array of rock legends including Dire Straits' Mark Knopfler for the follow-up to 2009's 'Keep It Hid'.
The record, which is yet to be named, is to also include a tribute to legendary producer Rick Rubin - who is famed for his work with the likes of Red Hot Chili Peppers, U2, Green Day and Johnny Cash - and has been recorded at his very own East Eye Studio along with a whole host of rock musicians.
Speaking to Rolling Stone magazine about the forthcoming record, which is still pending a final track-list, he said: "These guys tell me they're genuinely thrilled to be here because we're making records like they used to. I learned so much from these guys."
The Black Keys have been on an extended hiatus for over two years now and as a band they haven't put out anything since their biggest-selling album, 2014's 'Turn Blue'.
Auerbach says it has been hard to turn down paid projects, but insists the rock duo - which also includes drummer Patrick Carney - needed some time away to refuel.
He told the publication: "It's hard to turn away money, but you have to recharge.
And asked whether he plans on touring his solo album, he didn't say no.
He added: "How can you not?"
Aside from The Black Keys, Auerbach has his side project The Arcs, who dropped debut LP 'Yours, Dreamily' in September 2015, and he most recently recorded the track 'Standing In The Rain' for 2016 super-villain movie 'Suicide Squad'.
His second solo release is expected to drop in spring 2017.
Source: www.msn.com
Added automatically
770 views