News
Chris Martin celebrates 40th birthday with star-studded Willy Wonka-themed party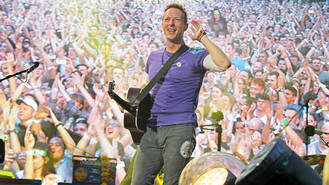 Chris Martin threw an epic, star-studded Willy Wonka-themed party to celebrate his 40th birthday.
The Coldplay frontman transformed his Malibu home into a homage to the 1971 movie Willy Wonka & the Chocolate Factory, complete with giant toadstools and lollipops set up around the grounds.
Chris even personalised the napkins at the bash to read 'Chris' 40th' in the same font used in the movie, adapted from the Roald Dahl novel, and a sign that read 'Pure Imagination', the name of Gene Wilder's iconic song in the film, was erected at his home.
The singer invited a host of celebrities to his bash on Friday (03Mar17), including Robert Downey Jr., James Corden, Rob Lowe, Jay Z and Beyonce, who is pregnant with twins.
Also spotted arriving at the party was Orlando Bloom, who made his first public appearance since announcing his split from girlfriend Katy Perry. The couple announced on Tuesday (28Feb17) they had parted ways, and would be spending some time apart.
"Before rumours or falsifications get out of hand, we can confirm that Orlando and Katy are taking respectful, loving space at this time," they said in a joint statement.
Katy then took to Twitter on Thursday (02Mar17) to clarify she and the Lord of the Rings star were still on good terms.
"HOW BOUT A NEW WAY OF THINKING FOR 2017!? U can still b friends & love ur former partners! No one's a victim or a villain, get a life y'all," she wrote.
It's unknown if Chris' ex-wife Gwyneth Paltrow attended the party on Friday, however she did take to social media to share a candid snap of the pair with their children - Moses, 10, and Apple, 12.
"HAPPY 40th BIRTHDAY to the best daddy in the world!!!" she captioned the image on Thursday. "We (love) you so much."
Source: www.msn.com
Added automatically
630 views