News
Barbra Streisand blames Donald Trump for weight gain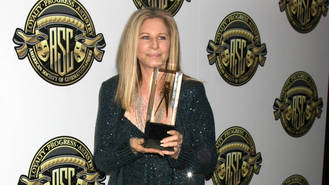 Barbra Streisand has blamed U.S. President Donald Trump for her recent weight gain.
The U.S. leader has caused controversy on an almost daily basis since his inauguration in January (17). Barbra was a devout supporter of Hillary Clinton, Trump's rival for the presidency, and admitted on her Twitter on Saturday (05Mar17) that watching the news, and seeing the consequences of the former Apprentice host now running the most powerful country in the world, has led to a change in her diet.
"Donald Trump is making me gain weight. I start the day with liquids, but after the morning news, I eat pancakes smothered in maple syrup!" the Funny Girl star tweeted.
One of Trump's recent headline-grabbing claims accused former president Barack Obama's administration of tapping his Trump Tower phones during the 2016 presidential elections. Following his allegation, the White House tasked Congress to look into the matter, but Barbra struggled to comprehend what Trump was claiming.
"Trump just accused Obama of tapping his phones. Seriously crazy times," she later wrote. "Time for more pancakes."
Barbra has never hidden her love for calorific treats like pancakes. In an interview with Dr. Oz back in 2014, the 74-year-old singer told the host: "I love coffee ice cream, and we go to friends' houses and I can't resist even the bread. I am a food addict. Tell you the truth. I am literally a food addict. I cannot stay away from foods that I love, which are bad for me - you know, like carbs that are bad. So I'm still a work in progress, as far as nutrition."
She also added in a chat with Sky News that her weight gain is one of the biggest things she criticises herself about.
"Having to worry about holding my tummy in when I'm on stage or something," she said. "So I like to eat and I hate exercise, what are you going to do?
"I have to force myself to exercise and force myself to diet, but I have limits to it... I have to enjoy life, eating is so much a part of life to me."
Source: www.msn.com
Added automatically
585 views