News
Deryck Whibley's goal in hospital was to perform live again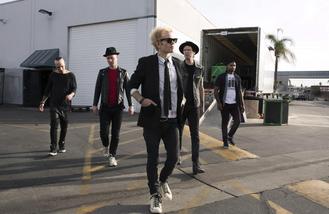 Deryck Whibley made performing live again his "goal" when he was in hospital being treated for alcohol addiction.
The Sum 41 frontman - who has suffered with on-going alcohol abuse in the past - had to relearn the guitar and find his voice again after a stint in hospital in May 2014, which saw his body "shut down" after he spent a week in intensive care for severe liver and kidney problems, and the only thing that was keeping him alive was his desire to get on stage and sing and play again.
Speaking exclusively to BANG Showbiz, he said: "When I was lying in the hospital the only goal was to get back to making music. I was sober for the first time in years just laying there and I realised the only thing I wanted to do was to just get back out on stage.
"Making an album is one thing, but it is not really why I do this.
"Performing is the thing I love the most. The album is just what gets us there."
The 36-year-old rocker previously opened up about how "frightening" it was when he lost his voice and forgot how to play the guitar.
He said: "At first, when I picked up a guitar I thought it would just be like picking up a guitar.
"But it was like learning the guitar for the first time. The same with singing. I couldn't sing at all. I couldn't hold a note, it was really frightening.
"I thought I'd lost it all, which I guess I had. I just had to relearn it all again."
Deryck also admitted the hardest part of making the pop punk band's LP '13 Voices', while he was still recovering, was finding "creativity" because he lost his confidence after being in hospital.
He explained: "It was hard to find creativity because there was so much fear and self-doubt when I came out of the hospital. I was still recovering at the same time. It was a long and hard recovering because I couldn't walk for the longest time. That was the hardest part.
"My entire body had been shut down so trying to rebuild everything from scratch was the hardest part. But also just trying to write at the same time that made it so difficult."
The 'War' hitmakers are currently on tour in the UK and Europe.
Source: www.msn.com
Added automatically
601 views