News
Michael Buble's son Noah 'doing very well' after cancer treatment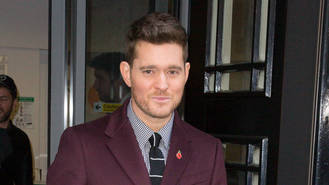 Michael Buble's son Noah is "doing very well" following his treatment for liver cancer.
Dario Lopilato, the brother of Michael's wife Luisana Lopilato, has shared details of the three-year-old's continued recovery in an interview with Argentine publication La Nacion.
Noah was diagnosed with liver cancer in November (16) following an initial examination at a clinic in Buenos Aires, and it's thought the tot had surgery in December to remove the tumour after a four-month course of chemotherapy to shrink it.
Actor Dario revealed to the news outlet that Noah is on the mend following his devastating diagnosis.
"After these very long months Noah is doing well, very well," he told La Nacion, reported Daily Mail Online. "For me it's very difficult to talk about it. But I believe in God and sought comfort in Jesus Christ and a miracle from God came, from the way it was discovered, after the operation, everything."
Dario also revealed he is travelling to Los Angeles on Friday (10Mar17) to join Noah and the family, and lend his support at this difficult time.
"I feel it's important to carry on accompanying. That's why I stop what I'm doing here every so often and travel there," Dario shared. "When you look at the big picture, and someone has a serious problem, everything else seems less important. The important thing is that we're together and we're living through this as a family."
Last month (Feb17) Michael and Luisana confirmed Noah is "progressing well" and the doctors are "very optimistic" about his future.
"He has been brave throughout and we continue to be inspired by his courage. We thank God for the strength he has given all of us. Our gratitude to his doctors and caretakers cannot be put into words," the couple said in a statement.
"We'd like to thank the thousands of people that have sent their prayers and good wishes to us. As we continue this journey we are greatly comforted by your support and love."
Source: www.msn.com
Added automatically
574 views