News
Obsessed Taylor Swift fan arrested for stalking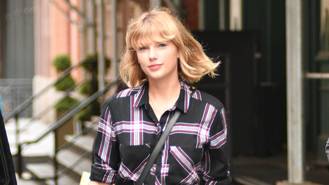 A man obsessed with Taylor Swift has been arrested for stalking after allegedly climbing on the roof of her New York penthouse.
Mohammed Jaffar, 29, first attempted to meet the Shake It Off singer last December (16), when he arrived at Swift's apartment and requested a meeting with her, and was told to leave, according to a criminal complaint obtained by the New York Post's gossip column Page Six.
But Jaffar was undeterred, and turned up at Swift's flat a further four times over the next two months, and managed to enter the building on 6 February (17). CCTV footage allegedly caught him in the hallway directly outside Swift's apartment door, and also on the roof of the building from 10am to 2pm that day. On another occasion, Jaffar rang Swift's doorbell for an hour straight, before returning the next day and ringing it again for a further 45 minutes.
His most recent attempt to meet Swift at the apartment reportedly took place on 15 February (17).
Jaffar's campaign to meet Swift allegedly extended to him calling the singer's management company 59 times between 27 January and 16 February (17) demanding to be put in touch with her.
Jaffar was arrested on 6 March (17) on stalking and burglary charges and was held on a $20,000 (£16,000) bond. Judge David Frey signed off on an order of protection against Jaffar, which prevents him from making any contact with the singer.
Swift purchased her $20 million (£16 million) penthouse in 2014, and counts stars including Orlando Bloom and director Steven Soderbergh among her neighbours.
Jaffar is the latest person to be arrested for stalking Swift. In November (16), Frank Andrew Hoover, 39, reportedly attempted to corner the Blank Space star and get a photograph of her as she made her way to a private jet following a show in Austin, Texas, in October (16).
He was arrested for breaking the terms of a lifetime restraining order, which forbids him from coming within 500 feet (152 metres) of Swift.
Source: www.msn.com
Added automatically
612 views