News
Circa Waves' Kieran Shudall isn't a fan of Ed Sheeran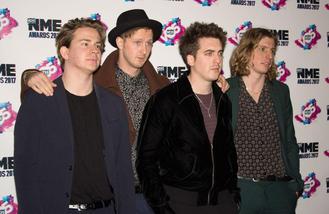 Circa Waves frontman Kieran Shudall isn't a fan of "commercial" Ed Sheeran and James Arthur.
The 29-year-old rocker has no interest in any artists in the charts, including the 'Castle on the Hill' hitmaker and the 'Say You Won't Let Go' singer, and has called on fellow rock lovers to support bands who make "honest music" as those topping the charts don't need any help in that department.
He told the Daily Star newspaper: "Bands survive now by people buying gig tickets, the charts.
"I don't like any of the music in the charts, I don't like Ed Sheeran and I don't like James Arthur and the people who see my band don't care about them.
"Rock bands will stay strong as long as record labels don't care too much about the charts because otherwise we will have too many singers that are purely commercial.
"We need people to still invest in bands and good honest music."
While he doesn't pay too much attention to pop stars, the 'T-Shirt Weather' hitmaker is interested in popular television show 'Game of Thrones', and has asked Isaac Hempstead Wright - who plays Bran Stark in the HBO series - to be in the band's new music video for 'Fire That Burns'.
And he is hoping the 17-year-old actor will take his "hints" that himself and his band mates, Sam Rourke, Colin Jones and Joe Falconer, want to appear on the show.
He revealed: "We found out Isaac was a huge fan so we messaged him on Twitter and asked if he would star in the video for 'Fire That Burns'.
"He messaged back straight away saying he'd love to, I never thought he'd ever even reply.
"I absolutely love 'GoT' and we want to be in it more than anything, I keep dropping hints to Isaac but he ain't picked up on them yet. They've had that guy from Snow Patrol in one so I don't see why we can't."
Source: www.msn.com
Added automatically
599 views