News
Adele has a secret Twitter account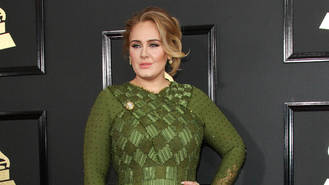 Adele uses a secret Twitter account after her management took control of her official one.
The Rolling in the Deep singer's management team have taken over her verified Twitter handle @adele, which is updated infrequently, and taken away Adele's access to it because they apparently thought she was too outspoken on it.
She revealed during a recent concert in Brisbane, Australia she had set up a second one under a mystery alias so she can check the micro-blogging site without her team knowing.
"I was looking on Twitter last night. They don't know I have a secret account, well obviously they do now because I said that. By 'they', I mean my management," she said, according to The Sun newspaper. "I'm not allowed access to my own Twitter because I'm quite mouthy and I say the wrong thing a lot of the time, so they took that privilege away from me."
It isn't known if the 28-year-old still has control of her Facebook and Instagram accounts. She recently sparked speculation she was pregnant with her second child after she posted a picture on Instagram of her singing in a bathroom. In the black and white snap, she can be seen reaching for the high notes and clutching her stomach with her left hand.
The singer, who is married to partner Simon Konecki, has made no secret of her desire to give her four-year-old son Angelo a sibling. During her North American tour last year (16), she said, "My son is about to turn four very, very soon. I'm starting to get very emotional about it because I feel like, once they turn four, they're not really your actual baby anymore... So my womb is starting to ache a little bit. It's like, 'Baby, baby, baby. Need a baby, need a baby!'"
However, she assured her fans she wouldn't getting pregnant until the tour ends. Her trek in Oceania finishes in New Zealand later this month (Mar17) but she booked four shows at London's Wembley Stadium which run between 28 June (17) to 2 July (17).
Source: www.msn.com
Added automatically
595 views