News
Christine and the Queens teases new music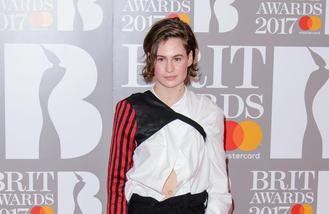 Christine and the Queens' new music will be "sweaty and tougher".
The 28-year-old singer songwriter - whose real name is Héloïse Letissier - has teased what fans can expect from her upcoming LP.
Asked if it is the same kind of music as her 2014 offering 'Chaleur humaine', she said: "I can't really tell much because then that would spoil the fun - but it will definitely be more sweaty and tougher.
"Maybe more high-tempo, but still really sad because I'm just me and I'm just sad deep down, but I'll properly be able to dance on it all the time."
The 'Saint Claude' hitmaker has been working on her new music since the release of her debut LP but insists it is not "difficult" to whittle down which ones to include on her new album.
She added to NME magazine: "I've been writing ever since it came out. I have so many songs now and I have to choose.
"It's not really difficult, though, because I know where I want to make Christine go. I know where she's going to be, who she's going to be, who she's going to be in love with and what she will be angry for."
Meanwhile, Héloïse previously teased her new album would be "sexy and creepy".
She shared: "I'm going to redefine what it means to be sexy, and it's going to be creepy as hell. Because I could never do the 'sexy' way of being sexy.
"The first album was a coming-of-age album - I don't like the phrase, but when you listen to it you can tell I was having a hard time, that I wasn't socially relating to people. Since then, things have happened to me, including sexual experiences.
"I've experienced being properly lost in my desires and it's really influenced my writing. I'm obsessed with the lusting female figure in pop music: I don't know why George Michael should be able to sing 'I Want Your Sex' and I can't, because I do. I want their sex as well, you know?"
Source: www.msn.com
Added automatically
636 views