News
Kesha: 'Eating disorder almost cost me my life'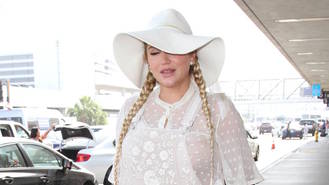 Kesha was so hungry at the height of her bulimia battle she almost ruptured the veins in her brain.
The Tik Tok hitmaker sought treatment in 2014 after silently suffering with the eating disorder for years, and earlier this month (Mar17) she backed a campaign for America's National Eating Disorder Association's (NEDA) Awareness Week.
Speaking as part of a Refinery 29 panel at the South by Southwest Festival in Austin, Texas on Tuesday (14Mar17), the pop star fought back tears as she said, "If you feel a certain way about yourself, your body - it can kill you. I almost died. I came closer than I ever knew.
"By the time I entered rehab, they were surprised I hadn't had a stroke, because I hadn't consumed enough. I'm not ashamed anymore. It's emotional because it's a deep-rooted disease. It can really affect your self-worth."
Kesha has been embroiled in a legal battle with music producer Dr. Luke since 2014 after claiming he mentally, emotionally and sexually abused her.
In her ongoing court battle, she is attempting to secure legal permission to end her contract with his Kemosabe Records after a New York City judge dismissed her case last year (Jun16).
Although Kesha hasn't released a full length album since her 2012 sophomore effort Warrior, she has recorded over 80 songs fans have yet to hear, and she has written about all of her recent personal battles in the unreleased tracks.
"The new music is just me speaking honestly about the s**t I've been through in life," she shares. "For the first time ever, without anyone dictating anything - it's just me speaking directly from my gut."
Kesha previously insisted Dr. Luke has barred her from releasing new music for years.
Source: www.msn.com
Added by AutoAdmin
606 views