News
Kristen Stewart's Chvrches collaboration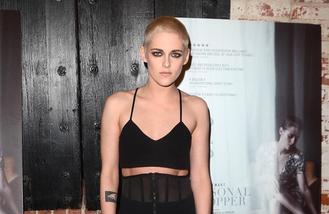 Kristen Stewart has teamed up with synth-pop group Chvrches on a mystery collaboration for Planned Parenthood.
The 26-year-old actress had her foray into the music world when she shot scenes for the Rolling Stone's music video for 'Ride 'Em On Down' from their 2016 covers album 'Blue & Lonesome', and now she has written a "narrative" potentially for another music video with the Glaswegian rockers.
The new project with the group - comprised of multi-instrumental musicians, Lauren Mayberry, Martin Doherty and Iain Cook - comes with a hard-hitting message to US President Donald Trump, who has signed a contract to cut funding to the non-profit organisation that provides reproductive health services worldwide earlier this year.
Of the collaboration, the 'Personal Shopper' star told the Los Angeles Times newspaper: "I had been asking them to let me do something for them for a while. They're so good. I ended up with a pretty simple but definitive narrative arc that highlights the cause in a sweet but quiet and confronting way."
Kristen is not the only celebrity getting behind Planned Parenthood as pop superstar Katy Perry - an avid Hillary Clinton supporter - donated $10,000 to the organisation,
amid concerns that the new US government could cut their funds.
In November, she wrote: "I am making a public donation to Planned Parenthood for the teenage me who made several visits to first a clinic in Santa Barbara and then Los Angeles, CA to educate myself on my sexual health, a subject I had little to no information on because of my sheltered upbringing. I had no idea how things worked down there, and had no idea how to make a plan for them.
"Planned Parenthood educated me on my body and my reproductive health, so that I could focus on my dreams and using my voice until I knew the timing was right for me to make a plan to have a family. Since then, I have been able to focus wholeheartedly on bringing messages of strength and becoming a voice for others. Without this education, I may have had a different life path.
"That is just my experience, but I know Planned Parenthood's broader range of services can sometimes be the only medical support low-income families ever see. I know what it's like to need help. I came from a lower- to middle-class family and never grew up with the option of health insurance. I remember having 13 cavities as a teenager, and the best option my parents could come up with was to try and take me to Mexico because we couldn't afford anything in California.
"Now, more than ever, we all need to protect and create safe places for each other. I hope I can help inspire you to make a gift as well, and become a member and an ally."
Source: www.msn.com
Added by AutoAdmin
570 views