News
Morrissey removes 'racist' T-shirt from online store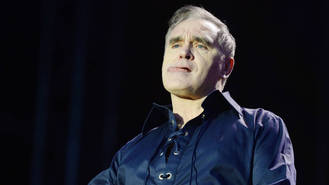 British rocker Morrissey has removed a T-shirt which sparked accusations of racial insensitivity from his online store.
The controversial T-shirt is emblazoned with a picture of African-American writer and civil rights activist James Baldwin's face.
Morrissey is a known admirer of the beloved novelist, playwright and social critic, but the T-shirt sparked outrage as above Baldwin's image are lyrics from Morrissey's former band The Smiths' song Unloveable, which read, "I wear black on the outside because black is how I feel on the inside."
The merchandise was to be sold online and at venues hosting the Panic singer's U.S tour dates, but it has now been pulled from sale.
Although the T-shirt has disappeared from Morrissey's Mporium store, a post on official fansite True To You advertising the Baldwin themed apparel has not been removed and the musician is yet to publicly comment on the reasons behind its withdrawal, or whether it will still be available to buy at tour venues.
Twitter users and journalists were quick to criticise Morrissey, with one notable piece in Britain's FACT magazine headlined, "Morrissey is selling racist t-shirts because he is a f**king idiot".
Baldwin's work explored the unspoken intricacies of racial, sexual, and class distinctions in mid-20th-century America.
A documentary film I Am Not Your Negro, directed by Raoul Peck and based on the novelist's unfinished manuscript Remember This House, received an Academy Award nomination for Best Documentary Feature at this year's (17) 89th Academy Awards.
The T-shirt controversy is not the first time the opinionated rocker has faced accusations of racial insensitivity.
In a 2010 interview with The Guardian he described the Chinese people as a "subspecies" when objecting to the country's treatment of animals. In 2012 editors at Britain's NME magazine published an apology to the singer after he sued them for libel over the publication of a 2007 interview he alleged wrongly portrayed him as a racist.
Morrissey's five date U.S tour gets underway in Santa Ana, California in April (17).
Source: www.msn.com
Added by AutoAdmin
328 views