News
Ed Sheeran to receive special honour at Songwriters Hall of Fame Gala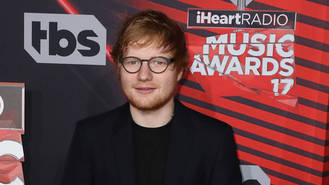 Ed Sheeran will be honoured with the Hal David Starlight Award at the 2017 Songwriters Hall of Fame Gala later this year (17).
The singer will be feted for his songwriting achievements at the ceremony in New York City in June (17).
"Ed Sheeran has accomplished so much in pop music that it is hard to believe he is only 26," a statement from Songwriters Hall of Fame co-chairs Kenneth Gamble and Leon Huff reads. "He is not an overnight sensation, however, having immersed himself in songwriting, recording and performing since his early teens. His natural talent as a singer, songwriter, guitarist and producer has brought him well-deserved success."
The Hal David Starlight Award was launched in 2004 to recognise young songwriters who have written inspiring original songs. Past recipients include Sheeran's friend Taylor Swift, John Legend, Alicia Keys, Drake, and Nick Jonas.
The 26-year-old will join fellow honourees Kenneth 'Babyface' Edmonds, Berry Gordy, Jay Z, and others at the induction ceremony on 15 June (17).
The award news comes at a high point in Sheeran's career - his new album, Divide, has topped charts around the globe and is currently number one in the U.K. and U.S. Earlier this month (Mar17) he made chart history in Britain by landing nine songs in the top 10. Four of the top five songs in Friday's (17Mar17) singles rundown in the U.K. come from Sheeran's third studio album.
Ed will also be able to tick another item off his bucket list this summer (17) when he headlines the Glastonbury festival in England. The singer will close the show on Sunday (25Jun17) and will join fellow headliners Radiohead and the Foo Fighters for the weekend event.
Source: www.msn.com
Added by AutoAdmin
319 views