News
Feargal Sharkey rules out Undertones reunion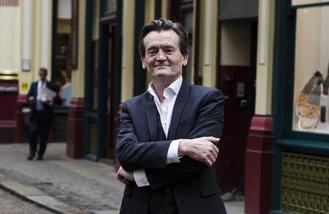 Feargal Sharkey has ruled out reuniting with The Undertones.
The 58-year-old retired musician has teamed up with 'Salute Music Makers' for a new app, which aims to launch the next generation of unsigned music makers, by offering them the cash prize of £50,000 to record their music.
Speaking prior to the launch of the competition, Sharkey said no amount of money would make him reunite with the 'Teenage Kicks' group, which he fronted from 1976 to 1983.
He says he owes his success to the Irish glam punk rock group - now comprised of Paul McLoone, John O'Neill, Michael Bradley, Billy Doherty and Damian O'Neill - and their label boss Terri Hooley.
Asked if he'd ever return to the band, he exclusively told BANG Showbiz: "No. It is a part of my life that I am immensely grateful for. Everything I had done subsequently traces back to The Undertones and that man called Terri Hooley going OK, Ill put up a £100's worth of studio time.
"But again, for me, it is all about moving forward and what tomorrow holds and what exciting thing will happen next week."
Asked if they are still in touch, he added: "We are still in contact one way of another."
The Undertones released thirteen singles and four studio albums between 1978 and 1983 before Sharkey announced his intention to leave the band in May 1983, citing musical differences as the reason for the break up.
They reformed with In 1999, with Sharkey being replaced by Paul McLoone.
As for the competition, songwriters and musicians alike will be required to upload a recording of their music to the app via their phone.
The Salute team, along with respected curators, will listen, rate and evaluate the applications, narrowing down the applicants to a top 100.
The competition opens April 3rd for access to all entrants, whilst the listening phase commences May 15th, ending in July when the top 100 will be announced and the music will be showcased via the platform.
For more info visit: www.salutemusic.co.uk
Source: www.msn.com
Added by AutoAdmin
320 views