News
Marc Anthony: 'Jennifer Lopez is my girl for life'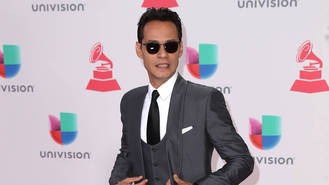 Salsa star Marc Anthony insists he'll always be a big part of ex-wife Jennifer Lopez's life, because she's his "goombah".
The singer went public with his new romance when he arrived at the fourth annual Maestro Cares Gala with his 21-year-old model girlfriend Mariana Downing earlier this week (beg20Mar17), but he confessed he'll always have a special place in his heart for his second wife, the mother of his twins Max and Emme.
The former couple reunited in the studio last year (16) after Anthony agreed to produce J.Lo's upcoming Spanish-language album and he insists their friendship is stronger than ever.
"If you want to get along with a woman, just get divorced," he joked during a recent appearance on TV news show Extra.
"I'm producing her Spanish album, which is, I'm telling you right now, some of the best work I've ever done and some of the best work that she's ever done.
"The fact that she put her career in my hands is a massive responsibility, but no one knows her like I do... We've always been (good friends) from day one, you know. We met working, 20-something years ago... She's my goombah. That's my girl for life."
But Marc couldn't be persuaded to give up details about his ex-wife's rumoured new romance with retired baseball star Alex Rodriguez, telling Extra, "I'm not that drunk to answer that s**t."
Not all Anthony's exes have a special place in his heart - his first wife Dayanara Torres recently broke her silence about her messy divorce from the singer, revealing their 2003 split was anything but amicable.
In an exclusive interview with People en Espanol, Dayanara recently insisted there was nothing she enjoyed about facing off with her ex over his child custody payments in court following their break-up.
"There were days when I had to face my children," she explains, "They would ask me every time, 'Did we win mom? Please tell us we won'. And finally we were given what we wanted, more than double of what we originally asked. I am happy because my children do not deserve any less than that."
Anthony wed Jennifer Lopez in 2004, just days after finalising his divorce from Dayanara. The singer split from his third wife Shannon de Lima last year (16) and their divorce was finalised last month (Feb17).
Source: www.msn.com
Added by AutoAdmin
323 views