News
Ryan Tedder pushed James Blunt to be 'bold on new album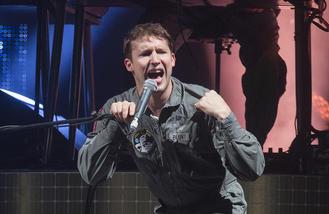 Ryan Tedder pushed James Blunt to be "bold" and "direct" with his lyrics.
The OneRepublic singer-and-songwriter worked on the 'You're Beautiful' hitmaker's new album 'The Afterlove' and on lead single 'Love Me Better', on which he influenced James to write the lyric, "Yeah I've been called a d**k, I've been called so many things", as he spurred him on to say things how they are.
Explaining why it was important to "change" his sound, he told The Sun newspaper: "I don't mean commercially but that you die in your heart if you're not having fun or if you just repeat yourself.
"Ryan pushed me to be bold and direct lyrically on (first single) 'Love Me Better'.
"It says, 'People say the meanest things/Yeah I've been called a d**k, I've been called so many things/I know I've done some s**t that I admit deserves it, but/That don't mean it doesn't sting'."
The 43-year-old hunk joked how if he had gone any bolder or cruder with the lyrics then he probably wouldn't get airplay.
He quipped: "I told him I've been called things much worse than d**k that rhyme with Blunt -- but that's not going to get me played on the radio, is it?"
And the 'Counting Stars' singer wasn't the only person encouraging James to be fierce on his fifth studio LP, as his long-time pal Ed Sheeran also re-taught him to write "without fear" again like he did on his 2004 debut LP 'Back to Bedlam' as the 'Shape of You' hitmaker felt he had close himself off on subsequent albums, including 'All the Lost Souls' and 'Moon Landing', and as a result they wrote the track 'Make Me Better'.
James said: "Ed said I'd not written without fear since my first album.
"I've never liked revealing myself but Ed said it was my job to as a songwriter.
"So I did. And the song that came out of him making me feel uncomfortable was 'Make Me Better.'"
'The Afterlove' is out now.
Source: www.msn.com
Added by AutoAdmin
347 views