News
Joey McIntyre: 'January Jones is the main reason why my show got picked up'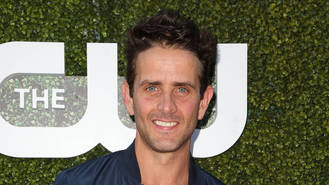 New Kids on the Block star Joey McIntyre has January Jones to thank for helping him get his new TV series picked up.
The singer discovered the former Mad Men star was a huge fan of his band and asked her to play his love interest in the pilot episode.
Joey is convinced her involvement - and not his acting talents - won over TV bosses, who agreed to give Return of the Mac a shot.
"She's a huge New Kids on the Block fan and I cashed in on that," Joey tells Access Hollywood Live. "I was shameless. I was like, 'Will you please do this pilot?' She's probably a big reason why the show got picked up.
"The New Kids fans are everywhere; you've just got to know where to find them and how to use them."
There is a handful of Joey's famous friends in the first season: "I had to write a lot of emails and had friends help me out... We've got great guest stars. Joey Fatone, for instance."
And the grown-up boy band star even asked his wife, Barrett Williams, and their kids, Griffin Thomas, Rhys Edward, and Kira Katherine, to take part in the show, revealing it was extra special to work with his spouse of almost 14 years.
"My wife has never acted but I was like, 'Honey, will you do it, please?' and she was amazing," McIntyre smiles. "She killed it. It was fun and challenging and stressful, working together, but it has its benefits."
Joey's new show revolves around an ex-boy band celebrity trying to take new steps in his career. It also features bandmate Donnie Wahlberg and his wife Jenny McCarthy.
Source: www.msn.com
Added by AutoAdmin
289 views