News
Steps vs Ed Sheeran Is The Chart Battle We Didn't Know We Needed In Our Lives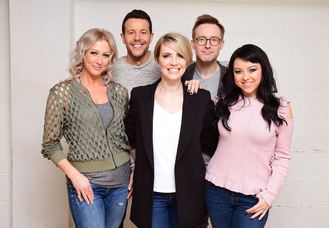 Ever since last month, we've been noticing the UK charts have been looking a little… same-y.
Various Ed Sheeran tracks have been overtaking each other in the singles chart (and that's without even getting into that week that he occupied almost entirely the top 10), while his album, 'Divide', hasn't budged from the top spot.
Listen, we're happy for Ed. We're sure he's a lovely fella. But we're bored. And it's time for something new.
Enter: Steps.
Yes, the questionable dance routine aficionados and finest pop group of the 1990s are back on the scene with their new album, 'Tears On The Dancefloor', and it's looking like they could be the ones to end Ed's hold over the top of the charts.
According to Official Charts Company, Steps have already overtaken Ed in the chart, meaning they're on course to top the charts with a studio album for the first time since 'Steptacular' in 1999.
However, Steps fans should probably hold off on popping the champagne corks just yet, as they're only 4000 units ahead, meaning anything could change between now and Friday's (28 April) chart announcement.
This could perhaps come as a surprise to Ed, who told GQ in the lead-up to the release of 'Divide': " Adele is the one person who's sold more records than me in the past 10 years. She's the only person I need to sell more records than… if I don't set her as the benchmark then I'm selling myself short."
Weren't banking on that Steps reunion, were you, Edward?
So, for anyone hoping to see a change in the charts this week, you know what you need to do - get buying, get downloading and get streaming 'Tears On The Dancefloor'.
Otherwise, by all means, give 'Galway Girl' another spin.
Check the Official Charts Company on Friday to see if Steps have managed to boot Ed from the top spot.
Source: www.msn.com
Added automatically
917 views