News
Kristin Chenoweth: 'I'm ready to adopt'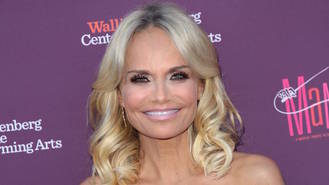 Actress and singer Kristin Chenoweth is ready to start a family.
The Broadway star has devoted much of her life to her career and romance has been a non-starter, but Kristin is now committed to settling down and plans to adopt.
In a new interview with Closer Weekly, the former Glee star, who herself was adopted, says, "I've sacrificed having a family and being married because, at the time, it didn't seem possible. Now, of course, I'm ready for that time to come in my life.
"I have many kids in my life that I take care of. In some ways I feel like I've adopted them. I would probably adopt before I have my own (child)."
And she feels she's the perfect person to adopt - because she knows exactly what it's like to grow up with parents that don't have her DNA.
"(I just want to) give peace and love to other adoptees. If any of them, like me, ever had a question or felt weird about it, I want them to know that it's not weird. It's actually really special."
And she has great parents as role models, because her mum and dad were always there for her, especially when things got tough.
"So many times when I wanted to quit, (my mom) inspired me to continue doing what I love," she beams. "And then when she couldn't do it any more, my dad did it. It's like they tag-teamed me!"
The former Wicked star has certainly found her way to the top after a series of smaller roles in TV and film - she's among the stars of much-anticipated U.S. TV drama American Gods and she'll also appear in the new My Little Pony movie, giving voice to the character Princess Skystar.
Source: www.msn.com
Added automatically
636 views