News
Mel B's ex Stephen Belafonte granted visitation with their daughter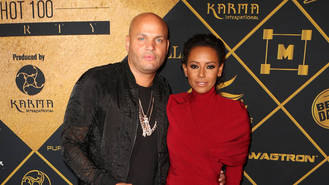 Mel B's estranged husband Stephen Belafonte has been granted visitation with their biological daughter.
Upon filing for divorce from Stephen last month (Mar17), the former Spice Girls star requested sole custody of their five-year-old daughter Madison and was also granted a restraining order preventing Stephen from contacting her or her children. Stephen responded by asking for joint custody of Madison, and was reportedly planning to ask the judge for the legal right to continue his relationship with 10-year-old stepdaughter Angel, who is the daughter of Mel and comedian Eddie Murphy.
On Monday (24Apr17), a judge ruled that Stephen can see Madison, in two four-hour supervised sessions per week at the Ness Counseling Center in Los Angeles.
However, his request to see Angel was denied.
The judge also ruled that Mel's restraining order against Stephen will remain in place until the end of the former couple's divorce battle. The singer alleged that Stephen had taken his jealous temper out on her on numerous occasions, claims which the producer strenuously denies.
Despite Stephen's attorney Grace Jamra telling reporters outside the court that they were "very grateful and happy" with the judge's decision about visitation, it appears Monday's hearing may have set the tone for what could progress into an incredibly bitter divorce battle.
The hearing kicked off with Mel's attorney Larry Bakman claiming that there are "money trails" linking Stephen to the adult movie industry, and alleging the producer has been filming pornographic movies at the former couple's home.
He also reportedly allowed a convicted felon into the family property.
Jamra called Bakman's allegations a "smear campaign" against her client, but Mel's lawyer insisted he has evidence to support his claims.
"We're still developing the evidence so I'm not willing to comment," he told reporters after the hearing.
Source: www.msn.com
Added automatically
636 views