News
Mary J. Blige: 'I've survived hell'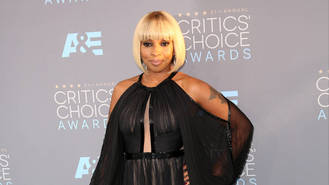 Singer Mary J. Blige has documented her marital "hell" in songs on her new album Strength of a Woman.
The R&B hitmaker filed for divorce from estranged husband Martin 'Kendu' Isaacs in July (16), and she admits she came up with the title for the new release while she was fighting to save her 12-year marriage.
"I was a strong woman who had survived a bunch of B.S. (bulls**t), who was fighting for her marriage that was in danger, nobody knew but me, that's where the title came from," she tells U.S. news show Extra. "Me living through my trials... I was going through hell, my business was all over the TV... I was just very, very alone in that time.
"I survived that time by learning how to love myself and pulling myself out of everything, so the title, Strength of a Woman, came from me understanding my strength as a woman, not from this divorce, the divorce stuff came later."
Mary's nasty split with Kendu has grabbed the headlines again this week (ends05May17), after she accused him of having an affair with her protegee, singer Starshell, during VH1 network documentary The Making Of: Strength Of A Woman, which aired in the U.S. on Tuesday (02May17).
The singer says the cheating drama has been chronicled in a few new tracks, noting, "The songs you hear, like Set Me Free, that's from the situation."
Mary admits she is still struggling to come to terms with the pain of divorcing Kendu, but she hopes that by being honest about what she is going through on her new album, she will help others suffering through similar experiences.
"(I don't feel completely free) because I'm not through this divorce yet… but I feel free as a spirit because I took my life back and I'm moving forward with that," she shares. "I hope it (my new album) uplifts them (fans). It's OK to not be OK. Sometimes to get through what you need to get through, but don't stay there too long - there is always light at the end of the tunnel."
Source: www.msn.com
Added automatically
637 views