News
Miley Cyrus responds to hip hop comment backlash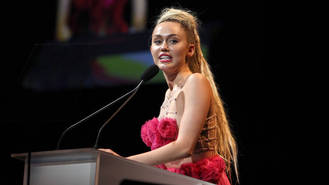 Singer Miley Cyrus insists she meant no offence by dissing profane hip hop lyrics in a new interview.
The Wrecking Ball pop star has crossed genres multiple times in the past and she helped to create a smash hit after lending her vocals to rap producer Mike Will Made It's 2013 single 23, which also featured appearances from Juicy J and Wiz Khalifa.
However, it appeared Miley, who infamously performed the 'twerk' rap dance style during her controversial performance with Robin Thicke at the 2013 MTV Video Music Awards, turned her back on her hip hop roots after telling Billboard magazine in a chat released this week (end05May17) she "can't listen" to certain extremely profane rap songs anymore.
"That's what pushed me out of the hip hop scene a little," she stressed to the publication while praising Kendrick Lamar's new song Humble for its respectful lyrics. "It was too much 'Lamborghini, got my Rolex, got a girl on my c**k' -- I am so not that."
Miley's comments received backlash from some fans who criticised her for slamming a genre that helped made her so popular, but the 24-year-old took to social media on Friday to defend herself, claiming her statements were blown out of proportion.
"When articles are read it isn't always considered that for hours I've spoken with a journalist about my life , where my heart is, my perspective at that time, and the next step in my career," she wrote on her Instagram account. "Unfortunately only a portion of that interview makes it to print, & A lot of the time publications like to focus on the most sensationalized part of the conversation.
"So, to be clear I respect ALL artists who speak their truth and appreciate ALL genres of music (country , pop , alternative .... but in this particular interview I was asked about rap) I have always and will continue to love and celebrate hip hop as I've collaborated with some of the very best!"
However, Miley stands by her call for more respectful rap lyrics, explaining: "At this point in my life I am expanding personally/musically and gravitating more towards uplifting, conscious rap! As I get older I understand the effect music has on the world & Seeing where we are today I feel the younger generation needs to hear positive powerful lyrics!"
Source: www.msn.com
Added by AutoAdmin
254 views