News
Lorde: 'I know I'm quite strange'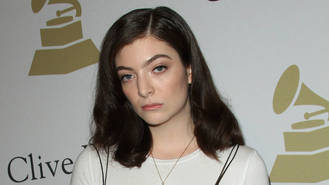 Lorde is doing her best to stay true to herself on her musical journey, but openly admits she's "quite strange".
The 20-year-old singer has enjoyed huge success worldwide with tracks such as Royals and is gearing up to release her new album Melodrama next month (Jun17).
But when it comes to staying grounded as her fame soars, Lorde has always made it a priority not to get swept up in the celebrity side of her job.
"(My friends told me I used to be) that girl who was always walking around listening to music and dancing. That really is who I have been since I was a kid... I just try to be as true to myself as I can, because I know I am quite strange in a lot of ways," she said during an interview with New Zealand TV show Seven Sharp. "I know who I am, and what I'm good at and definitely not good at."
Lorde, real name Ella Yelich-O'Connor, returned home to New Zealand this week for her sister Jerry's graduation on Wednesday (03May17).
While she is very close to her family and has a few select friends, including international superstar Taylor Swift, she added that she has never made friends easily.
"I'm such an introvert by nature, I have a few people I'm close to," she explained. "When I did start off, a lot of people that I meet are like 'I met you and you were really shy and you didn't smile and you seemed like you hated being here', I kind of did, it was really scary for me."
To help her stay grounded Lorde tries to surround herself with people who "appreciate Ella".
Source: www.msn.com
Added automatically
586 views