News
Pink ends feud with Christina Aguilera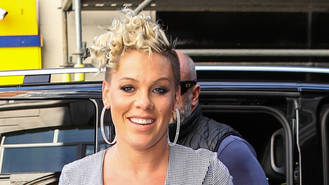 Pink has "made amends" with Christina Aguilera after over 15 years of feuding.
The pop queens fell out with each other over their collaboration on 2001 hit Lady Marmalade, but Pink insists there's no longer any bad blood between the divas.
"I (love) Xtina, we've made amends....," the So What hitmaker wrote on Twitter on Tuesday (15Aug17).
The tweet came after Aguilera devotees criticised MTV bosses for announcing Pink was the recipient of this year's Michael Jackson Video Vanguard trophy at the upcoming MTV Video Music Awards ceremony.
Many felt the new mum didn't deserve the accolade, which honours artists for their catalogue of career music videos.
One Christina fan suggested none of Pink's promos have been worthy of an award since the release of the video for Lady Marmalade - prompting a response from the Grammy-winner.
"Want to point out an awful new phenomenon of the last 10 years. We can no longer be happy for each other," Pink tweeted before admonishing trolls for trying to stoke hostilities between herself and former foe Christina. "Music brings us all together. The best part of music is there's room for everyone to win at the same time.
"Don't be what's wrong w/da (with the) world... Let's be an example of inclusion and celebration. You don't have to like me at all, I'm ok with that. Just be a decent person."
Pink closed out the message by dressing down her haters even further: "And you're f**kin rip van winkle if you've never seen one of my videos," she scolded, referring to the classic American literary character who dozed off and slept through the entire American Revolution.
Pink released her latest music video for What About Us on Wednesday (16Aug17) and the promo is receiving critical praise for its stirring political statements.
Source: www.msn.com
Added by AutoAdmin
152 views