News
Chester Bennington's ex-wife slams his 'disgusting' funeral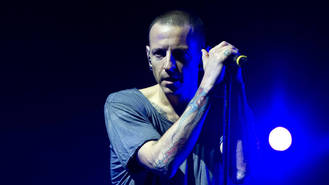 Chester Bennington's first wife was left disgusted by his funeral, accusing his widow and others of capitalising on his death.
Samantha Bennington, who was married to the Linkin Park star for nine years until their divorce in 2005, was far from impressed by the late rock singer's private service on 29 July (17), and she has now taken to Facebook to attack those who organised the farewell.
"I'm so disgusted on so many levels!" Samantha fumed in a post on Wednesday (23Aug17). "There were many friends & family that should have been there but when you turn a funeral into reducing someone's life into only 12 years that's what you get!"
Over 500 people attended the funeral and Samantha felt it was more of a corporate networking party than a personal affair. She claims the funeral programme looked like "a cheap happy hour menu" that was devoid of details from his life before he became a huge star and married his widow Talinda in 2006.
Samantha also accused her of treating her stepson Draven - Bennington's only child from his first marriage - like an outcast following his dad's death.
"We haven't had the opportunity to honor his dad properly for his lifetime, & the lack of respect & honesty is just disgusting!" Samantha wrote. "We do not have a place to go or even any of his ashes!"
Rumours suggesting Samantha has kept Draven from seeing his half-siblings since his father passed have emerged, but she insists critics have got it all wrong - her son simply doesn't want to set foot in the Palos Verdes Estates, California home where his father hanged himself on 20 July (17).
Addressing Talinda, Samantha raged: "You want my son to have some of his (Bennington's) things, then give him something you feel is meaningful, do not force him to go into that house... He would rather not have a jacket from his dad than have you force him to go into that home."
She concludes her Facebook rant by wishing bad karma on all those who have capitalised on her ex-husband's death: "Karma is real," she writes. "I send you back all your energy to you a thousand time folds! Look in the mirror, I hope you like what you see. Business is business but I see Zero Love."
Source: www.msn.com
Added automatically
599 views