News
Cara Delevingne sings on confessional St. Vincent track - report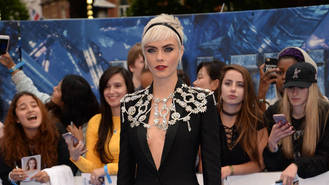 Cara Delevingne has reportedly lent her vocals to a confessional track on her ex-girlfriend St. Vincent's new album.
The 25-year-old model and actress, who dated St. Vincent for 18 months before the couple split last year (16), appears on the song Pills, according to Nick Paumgarten, who has profiled the musician for The New Yorker magazine.
Paumgarten, who shadowed St. Vincent during the creation of the new, as yet untitled record, reports that Cara will be credited as Kid Monkey in the album credits.
The British star reportedly sings the words, "Pills to grow, pills to shrink, pills, pills, pills and a good stiff drink / pills to f**k, pills to eat, pills, pills, pills down the kitchen sink."
Cara has recently moved into music as well as fashion and acting, having recorded a song for the soundtrack of her latest movie Valerian and the City of a Thousand Planets.
In The New Yorker interview the Digital Witness singer, 34, real name Annie Clark, recalled how her intense workload and an illness in her family caused her to use medication to overcome depression and anxiety.
"I was trying to hold on," she said. "I didn't have coping mechanisms for tremendous anxiety and depression. I was trying to get through pharmaceutically."
Fans have speculated that the album's lead single, New York, an emotional piano ballad about the end of a relationship, is about Cara. However St. Vincent told the magazine that the track was not about any one person, and instead was a "composite".
She did however reveal in a recent interview with British newspaper The Guardian that she had been writing material about Cara.
"I can only write about my life, and that - dating Cara - was a big part of my life," she said. "I wouldn't take it off-limits, just because my songs might get extra scrutiny."
In addition to releasing a new album, St. Vincent is also turning her hand to filmmaking, and is set to direct a female version of Oscar Wilde's iconic story The Picture of Dorian Gray.
Source: www.msn.com
Added by AutoAdmin
203 views