News
Kylie Jenner: 'There was not one thing wrong with me and Tyga'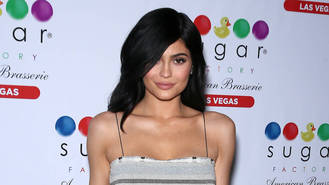 Kylie Jenner has opened up for the first time about the reason she ended her relationship with Tyga.
The 20-year-old reality star called time on her romance with the rapper in April (17), after years of on-off dating. It was rumoured at the time that Tyga's infidelity was to blame for their split, but Kylie dismissed those claims during Sunday night's episode of her E! spin-off show Life of Kylie.
"There was absolutely not one thing wrong with me and T (Tyga). He and I will always, always have a bond," she said. "There was no crazy fight, we just decided... Well, I decided that I'm really young. I don't want to look back in five years from now and feel like he took something from me when he's really not that type of person."
The episode also saw Kylie receiving roses from rapper Travis Scott, who she started dating shortly after her split from Tyga.
"Did you guys see all my flowers?" she asked, to which a producer replied, "It looks like someone is obsessed with you."
Kylie then smiled from ear-to-ear and said: "I hope the person I'm dating's obsessed with me."
Kylie's discussion of the Tyga break-up comes after the Rack City hitmaker spoke about the split during an interview on The Breakfast Show last month.
"I have love for her, but I'm not in love no more," he said, before addressing claims that he had "lost" Kylie as his lover. "It ain't a losing thing… It's like when you make a decision to not be in a relationship with somebody, y'all make that decision, ya'll split ways."
Tyga and Kylie first met in 2011, when the youngest Jenner was just 14 years old. They waited several years before going public with their romance, due to Kylie young age, and 27-year-old Tyga insisted during The Breakfast Show interview that the pair were "just friends" when they first met.
"She's younger than me, so she's dealing with perception," he mused. "For her, growing up how she grew up, image and perception is everything. You got a bunch of people pulling from you, and you're trying to develop as a woman."
Source: www.msn.com
Added by AutoAdmin
233 views