News
Lady Antebellum stars are expecting kids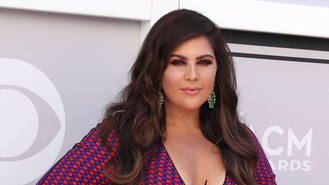 The Lady Antebellum family is about to swell by two - Hillary Scott and bandmate Dave Haywood's wife are pregnant.
Haywood's wife Kelli is due in December (17) and Scott, who is married to Chris Tyrrell, is expecting her second child in February (18).
The bandmates announced the baby news in a joint post on the group's Instagram page, beneath a photo of their kids.
"Well, #BabyBellum round 2 is on the way!" the caption reads. "We're thrilled to announce the Haywoods are welcoming a girl this December, AND the Tyrrells are expecting in February 2018!!"
Dave and Kelli welcomed son Cash in September, 2014 and Hillary and Chris share daughter Eisele, who was born in 2013.
The Need You Now singer also suffered a miscarriage in 2015, which inspired the song Thy Will from her Grammy-winning Christian family album Love Remains.
Dave and Hillary's bandmate, Charles Kelley, is also currently a father of one after his wife Cassie McConnell Kelley welcomed son Ward in February, 2016. The couple struggled to conceive for years.
The country trio is currently wrapping up the North American leg of its world tour before jetting off to Europe and South Africa - with their families in tow.
Scott admits life on the road with kids can be tough, but they make it work.
"We definitely flip a switch," she tells Billboard. "At a certain time, it's like, 'OK Eisele, it's time for bed. Mum's gotta go do a show'. It's definitely an adjustment, but it's fun. We enjoy what we do so much because we feel so lucky to have such incredible families at home, but that also get to travel with us.
"For me, it really amplifies the whole experience. There's nothing better than walking off stage, getting on the bus and looking at the baby monitors, seeing Eisele conked out in the bunk - knowing we're going to have breakfast in the morning, and that we get to do it all again tomorrow. It's really special. And now the kids are getting old enough to where they're playing together."
Kelley adds, "Every day, they're talking about Moana... and now my 18-month-year-old kid, he's already obsessed. We've watched Moana a thousand times. But those cartoons are amazing!"
Source: www.msn.com
Added by AutoAdmin
331 views