News
Este Haim: 'I copy how Steve Nicks writes songs'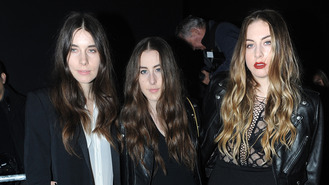 Haim sisters Este, Danielle and Alana have likened their meeting with Stevie Nicks to a scene in Disney classic Beauty and the Beast.
The band were taken under the wing of Fleetwood Mac legend Stevie a few years ago, and she taught them how she writes lyrics on the back of journal passages.
Este has recreated the songwriting style for her own musical offerings, and the three siblings still can't get over how lucky they were to meet her.
"The way she journals, I was like, that is so genius!" Este told DIY magazine. "It's so simple! And now we have these magical little books that depict everything that's been going on in our lives."
"Stevie Nicks' tips," Danielle added with a smile. "We were super lucky, she took us in her arms, and taught us about journals."
"It's like that scene in Beauty and the Beast, where she sees a library for the first time," Este continued. "And the beast is like, 'this is all yours' She walks in, and there's bound books, upon bound books."
Haim recently released their second album, Something to Tell You, which reached the top 10 around the globe.
It came nearly four years after their debut record, and the U.S. sisters admit they'd barely left the country before finding success with their first album, Days Are Gone.
"We started playing live as kids, and that's the part of being in a band that's so much fun; you get to run around and play music," Alana grinned. "It's a dream. Before Days Are Gone I had never really been outside the U.S. It was a culture shock, like, 'woah, I'm in places I learned about at…' Places you see in books!"
"Coming back, we had all those experiences to write about, and to draw from."
Source: www.msn.com
Added automatically
505 views