News
Taylor Swift confirms that boyfriend Joe Alwyn co-wrote songs on Folklore under William Bowery pseudonym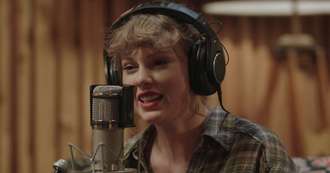 Taylor Swift has finally confirmed that the mysterious writer William Bowery on her album Folklore is boyfriend Joe Alwyn.
When the surprise folk-inspired album dropped in July, many fans spotted the unfamiliar name credited on the tracks "Betty" and "Exile" despite no evidence of him existing anywhere online.
This led them to theorise that Bowery was in fact Swift's actor boyfriend Alwyn, who she has mostly kept her relationship with private.
However, the speculation was confirmed in the singer's new concert film Folklore: The Long Pond Studio Sessions, which was released on Disney+ on Wednesday (25 November).
"There's been a lot of discussion about William Bowery and his identity because it's not a real person," Swift said, adding: "So, William Bowery is Joe, as we know."
Revealing the pair first wrote "Betty" together after she heard him sing the chorus during lockdown, she said: "It was a step that we would never have taken because why would we have ever written a song together?
"So this was the first time we had a conversation where I came in and I was like, 'Hey, this could be really weird, and we could hate this, so because we're in quarantine and there's nothing else going on, could we just try to see what it's like if we write this song together?'"
Of the track "Exile", which was this week nominated for a Grammy, Swift said that Alwyn wrote the entire piano part and first verse of the song.
Swift then asked Bon Iver to appear on the duet because her and Alwyn were "really, really big fans" of the band.
Folklore picked up six nominations ahead of the 2021 Grammys, including for the Album of the Year award.
Folklore: The Long Pond Studio Sessions is available to watch on Disney+ now.
Source: msn.com
Added automatically
143 views