News
Paul McCartney says he uses a teleprompter in case he forgets Beatles song lyrics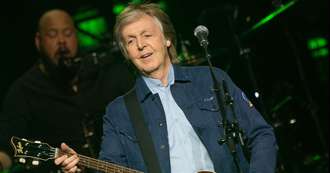 Paul McCartney has revealed he uses a teleprompter when he's performing, in case he forgets Beatles song lyrics.
The star, 78, told US podcast Smartless: "Sometimes I'll be doing a song, like 'Eleanor Rigby' or something, and I'm on autopilot.
"And I'm starting to think, 'Oh, what am I gonna have for dinner? Maybe you won't have the soup but maybe you'll just go for the main course.
"Then I go 'Stop!', because I'm singing 'Eleanor Rigby'! I've separated myself not only from Paul and fame, but a couple of bits in my head are going in different places. Sometimes that breaks down and I forget the song. I have a teleprompter."
McCartney will release his third self-titled solo album later this year.
He recorded McCartney III during lockdown, with the album due for release on 11 December.
It is the third in a trilogy, following on from 1970's McCartney and 1980's McCartney II.
The album was recorded earlier this year in Sussex, with McCartney saying of the recording process: "I was living lockdown life on my farm with my family and I would go to my studio every day.
"I had to do a little bit of work on some film music and that turned into the opening track and then when it was done I thought, 'What will I do next?'... It was about making music for yourself rather than making music that has to do a job."
Source: msn.com
Added automatically
142 views