News
0207 Def Jam: Universal UK launches new label led by Alec and Alex Boateng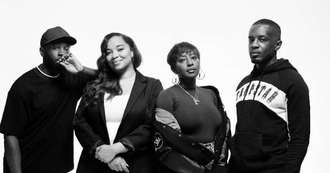 Universal Music has announced the launch of 0207 Def Jam, a new label that will serve as the UK home of Def Jam Recordings.
The project is being led by co-presidents Alex Boateng and Alec Boateng, Ghanaian-British twin brothers with a wealth of music industry experience behind them.
Alex Boateng joins the venture after 10 years at Universal Music UK, where he recently headed up Island Records' first Urban Division, leading campaigns for artists including Drake, Dizzee Rascal, The Weeknd and Nicky Minaj.
Alec Boateng spent the past seven years at Warner Music, and was previously the co-head of A&R at Atlantic. He is also a seasoned radio presenter, hosting BBC 1Xtra's breakfast show for several years as well as specialist shows that promoted new British music.
Universal Music UK chairman and CEO David Joseph said in a statement: "Bringing the Boateng brothers together at 0207 Def Jam is an important moment in British culture.
"Alec and Alex have always done things their own way with success always quick to follow. They have already assembled an exceptionally talented top team with a clear vision for this exciting new chapter in the history of one of the world's most famous labels."
Alex's former Island colleague, Amy Tettey, joins the team as managing director, having worked across Island's entire roster that includes Amy Winehouse, Drake and Dizzee Rascal. Jacqueline Eyewe, previously senior managing marketer at Atlantic, has been appointed marketing director, while Char Grant joins from BMG Music Publishing as 0207 Def Jam's A&R director.
Alec said: "Music, art and artists really, really matter. I'm super excited to play a leadership role in this brilliant new space we're creating for amazing music and talent to live and evolve. A space which will support both our teams and our artists to be the best version of themselves."
Alex added: "Especially in these times, this is a real privilege. I'm proud our collective journey now includes partnering a legendary label with a style that only London and the UK can provide. Looking forward to watching and guiding where the music and art takes the journey next."
Rumours that a UK arm of Def Jam Recordings was being set up first emerged earlier this year, after the Boateng brothers left their respective roles to pursue a secretive new project.
It comes after UMG announced the launch of Def Jam Africa in May, with the aim to sign and develop talent from across the continent. 
The first part of the new label's name, 0207 Def Jam, is inspired by the London telephone code as "a nod to the music, culture and art the UK is famed for".  
Source: msn.com
Added automatically
158 views