News
Stranger Things' Millie Bobby Brown left feeling "disrespected" after unsettling fan encounter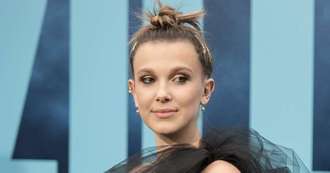 Stranger Things star Millie Bobby Brown has opened up about an unsettling fan encounter which left her feeling "disrespected".
In a video posted on her Instagram Stories, a visibly distressed Brown described how she was out Christmas shopping with her mum when a fan asked to video her.
"I just went shopping with my mum for Christmas," Brown said, adding that a fan recognised her and asked: "Can I take a video of you?"
Brown continued: "I said, 'Um, no.' But why would anyone want to be taken a video of? Of me? It's not like of the both of us. Of me.
"I don't need to justify it to anyone. If I don't want to be taken a video of, I don't have to be."
Brown said that when she was paying, the fan walked past her again and began to video her. "I said, 'I'm a human being. Like, what more can I ask from you?'" Brown continued.
"She said, 'So, I can't take a video of a human being?' No! Not when I said no!"
A tearful Brown then said: "It just makes me upset when people try to push the boundary, and I just wish people were more respectful.
"I'm still trying to navigate this all and it's still overwhelming... I will take a picture with you but when you push the boundary and you try and fight me on it, where are my rights to say no?
"Ultimately I'm making this video to say, you have to show more respect for others, no matter who they are, what they do, show respect human being to human being. It's just manners."
Last month, Brown revealed that she'd love to play Amy Winehouse when asked which historical figure she'd like to bring to life.
"I wouldn't say she's historical but I would love to play Amy Winehouse," Brown said.
"I personally think she is like an icon to R&B and blues and basically the whole culture of music. I just love her music and I really was impacted by her whole story – so I would love to play her."
Source: msn.com
Added automatically
212 views