News
Dorchester celebrate Thomas Hardy's Birthday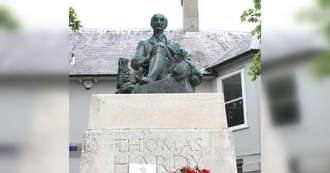 In a break from tradition Dorchester's new Mayor and Mayoress will be the only representatives from the town council at this weekend's Thomas Hardy birthday events.
Normally the entire town council marches, in full regalia, to the wreath laying ceremony at Hardy's statue at the Top o' Town.
Other events planned by the Thomas Hardy Society will also be low key with limited numbers because of on-going Covid restrictions.
After the Saturday afternoon wreath laying, which will include Hardy readings, the official party will walk to St Peter's Church to lay a wreath at the statue of Dorset dialect parson-poet the Rev William Barnes.
The evening concludes with a buffet supper and a musical history evening with BBC young folk musician of the year in 2012, James Findlay and fellow musician Jerry Bird. The event has been sold out.
Together they will be performing the songs which Hardy either mentions or alludes to in Tess of the d'Urbervilles, along with traditional Dorset tunes, some of which were sourced from the Hardy family manuscript books. The songs will be introduced with readings from the relevant passages in the novel.
This year marks the 130th anniversary of the publication of Tess.
The rescheduled biennial Hardy conference, the 24th, will now be held at the Sunninghill School in Dorchester from July 10th to 17th and will include a presentation by Julie Christie on the opening evening which will include the actress reading some of her favourite Hardy pieces.
Source: msn.com
Added automatically
210 views